Congratulations to the Rural Municipality of Ritchot, our newest Swift Champions. The RM has been long-standing supporters of the Manitoba Chimney Swift Initiative thanks to their ownership of the Club Amical in Saint Adolphe. This relationship goes all the way back to the very earliest days of MCSI. Since those days, the RM has always been especially helpful, providing access to buildings and committing to retaining precious breeding habitat on their land. They have also worked with MCSI to repoint both chimneys on the Club Amical and given access to buildings.
Barb Stewart related the history at the recent council meeting to hand over the plaque how things began. Back in 2007, the first Chimney Swift monitoring season. The then mayor was leaving the RM with a councillor following an evening council meeting. The mayor, on seeing two strange looking people sitting in the Club Amical parking lot, staring at the chimney top, exclaimed 'who are those drunk people?' The councillor responded, 'that's Barb and Rob Stewart'. An inauspicious start!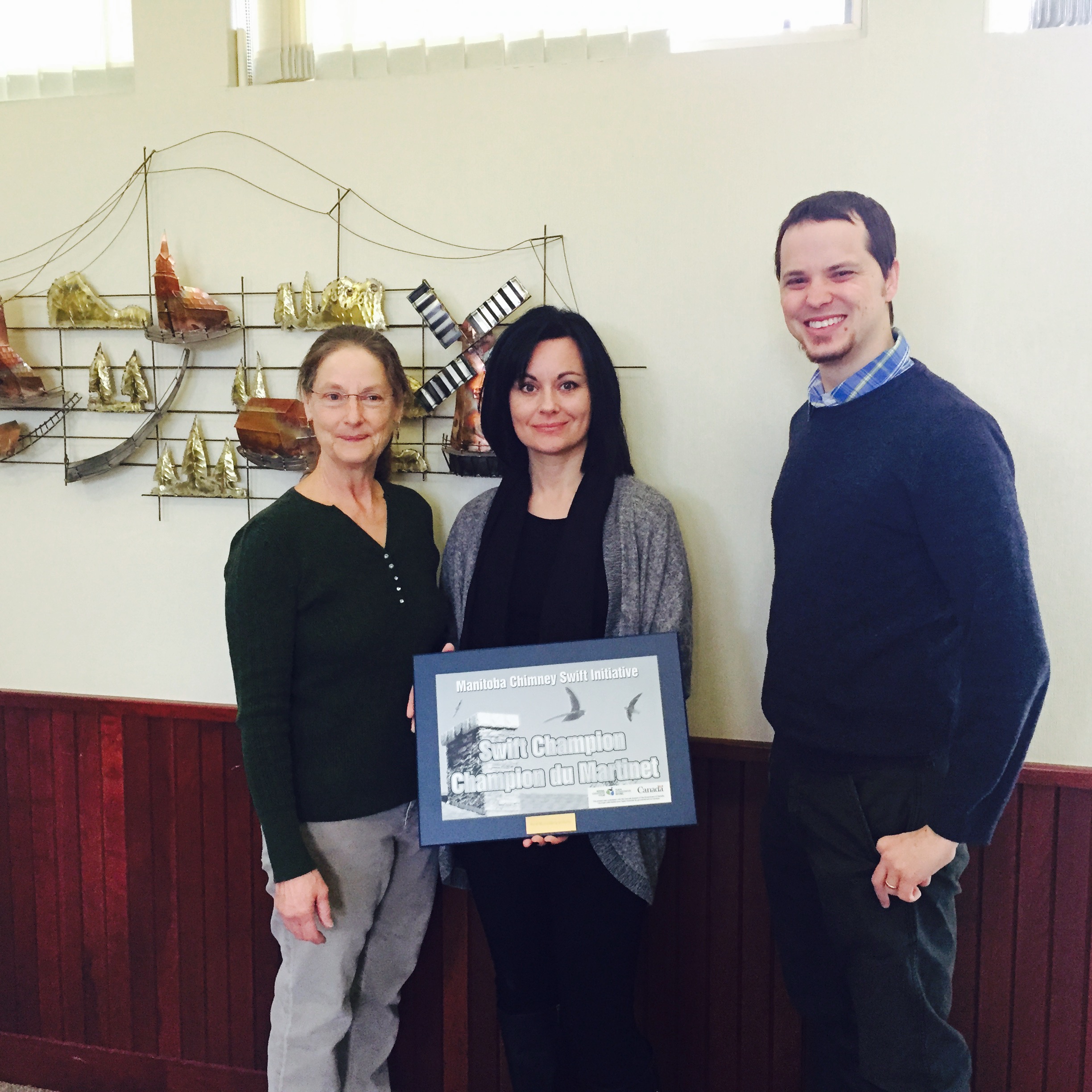 Later that year, following a swift departure to sunnier climes, the nest site in the southeast Club Amical – 10 feet down from the chimney top – was observed in September after the RM of Ritchot Fire Department kindly positioned ladders for the MCSI crew to access the chimney. In 2008, the RM of Ritchot provided much appreciated support for the construction of the Ferry Site tower. In 2010, the RM of Ritchot generously facilitated the relocation of the artificial tower from the municipal ferry site to the Church grounds.
In late 2015, the RM of Ritchot purchased the site of Brodeur Brothers where one of the five nest sites in St. Adolphe is located. We look forward to continuing to work together in the future.
We thank all the members of the current Council, Mayor Jackie Hunt, councillors Ernie Dumaine, Ron Mamchuk, Jeannot Robert and Corinne Webb, and Chief Administrative Officer Mitch Duval plus present and former councillors.
To find out more about Swift Champions, see http://www.mbchimneyswift.ca/champion.html.