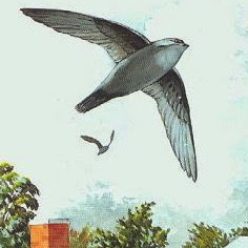 It's been over a week with no reports, so it's very unlikely that any Chimney Swifts remain in Manitoba. Thanks to everyone who has contributed to the Manitoba Chimney Swift Initiative over the course of this busy summer. If anyone still has any outstanding data to submit, it is never too late to email them to us – the more the merrier!
In 2017 you have generated a phenomenal amount of data and below are just a few highlights from a very successful summer.
 Number of Communities with Active Monitoring: Volunteers monitored Chimney Swifts in 24 Manitoban communities. The communities in question were: Brandon; Carman, Clearwater; Darlingford; Dauphin; La Broquerie; La Salle; Lac du Bonnet; Lower Fort Garry; Manitou; Melita; Otterburne; Portage la Prairie; Selkirk; Souris; Southport; St Adolphe; St François Xavier; Saint-Jean-Baptiste; Steinbach; Stonewall; The Pas; Wasagaming and; Winnipeg. Swifts were also noted in Morden and the Turtle Mountain Provincial Park.
Number of Sites Monitored: A very impressive 137 sites were monitored in 2017, up from 87 in 2016. This is an awesome effort from a lot of people.
Number of New Sites: We added 39 new site codes to the MCSI database. 32 of these sites were active (i.e. someone saw a swift fly into, or out of, the chimney). New sites were added in La Broquerie, Melita, Selkirk, Lower Fort Garry, Portage la Prairie and Winnipeg (Downtown, South Point Douglas, Fort Rouge, the West End and St James). The La Broquerie chimney is of particular interest. In 2016, volunteer David Dawson was involved in helping to remove an old bees nest and masonry from the top of a second chimney on the church. In 2017 the chimney was used by a second pair of swifts. Well done David!
List of 31 Target Sites: Amazingly, we were able to monitor every single target site identified prior to the breeding season. Of these, 1 was already capped, 1 was later demolished, 13 were unoccupied on the date of monitoring and 16 were occupied. See https://drive.google.com/open?id=1QZxKbV9ditkyVKWQCr4TwK_z4vc&usp=sharing
Old Database Sites With Chimney Swifts: There are a number of sites present on the database which have no swift records. In 2017 swifts were seen entering a few of these sites in Winnipeg. These were the Nutty Club Food Club on Lombard, VJ's on Main and 303 Assiniboine Avenue, which turned out to contain a rather large roost. In addition, the Via Rail Station in the The Pas and St. Hyacinthe Church in La Salle were confirmed as active sites.
Number of Volunteers: We are aware of 95 volunteers who have been out and about monitoring chimneys in 2017. This is up from 61 in 2016. The Selkirk Birdwatchers Club led by Gerald Macnee, the Assiniboine School monitors and Gord Ogilvie in Portage la Prairie have coordinated group monitoring in local areas. Frank and Jacquie Machovec also deserve a mention, being always willing to drive longer distances to monitor swifts where no local volunteers are available.
A keen observer, indeed: John Hays watched over a dozen chimneys in and around downtown Winnipeg!
Creative volunteer recruitment: Jan and Ken Wainwright have kept monitoring the Dauphin roost throughout the season over a decade. In an attempt to drum up more local interest in the swift population they put on an evening for geocachers with up to 6 coming along for the show! Swift watches were also organised in Portage la Prairie and Winnipeg and larger blitzes in Selkirk and Souris.
Largest Roost: Jake Peters counted 210 swifts enter Assiniboine School on May 18th. This was the largest total ever counted by MCSI. The largest fall count was by John Hays at 303 Assiniboine Avenue in Winnipeg, a total of 102 on August 6th.
Confirmed Breeding: It is not always easy to determine nesting success but in 2017 we did have a few sites confirmed. From the information supplied we think we have successful breeding in Brandon, St Adolphe, Winnipeg, La Broquerie and Dauphin. Active nesting behaviour was observed in a number of other places – including The Pas for the very first time.
​Latest fledgling swifts​: Margaret and Millie had a later brood in Brandon. The fledglings were last noted on August 28th having first been confirmed on August 24th. The hatch date is unknown – but this does appear to be a late record for Manitoba.
Latest roosting birds: The Selkirk Birdwatching Club managed it again! Gerald, Carol, Robert and Donna had a single swift at the Selkirk Mental Health Centre on September 2nd. Cal Cuthbert also had birds at the Red River College in Portage la Prairie on August 30th.
Latest birds in air: Rudolf Koes noted a swift over Assiniboine Park on September 3rd flying quite high over the river.
In relation to the latter, we have book prizes for the Selkirk Birdwatchers Club and Rudolf Koes. We will be in touch with them to collect their prizes.
Although the swifts have migrated to their winter feeding grounds in the Upper Amazon, MCSI will continue to be active on a number of projects. Keep an eye on our website during the winter for latest news and developments.

On behalf of the MCSI Steering Committee thank you to everyone who has contributed to making 2017 such a successful monitoring season for swifts. Here is to a successful 2018!

— Tim Poole