"The time has come," the Walrus said, "To talk of many things…" (Lewis Carroll, The Walrus and the Carpenter)
…but to roll out the 2017 MCSI season, we are going to talk of many swift related things!
Our Chimney Swifts are migrating north from their wintering grounds in South America. The latest eBird map shows that our intrepid swifts are fast moving up the eastern coast of the USA, recently being seen as far north at Maryland and New Jersey. As an aside, it is interesting to see how few winter sightings there were in North America, just one near Bogota and one cut from this map in Peru.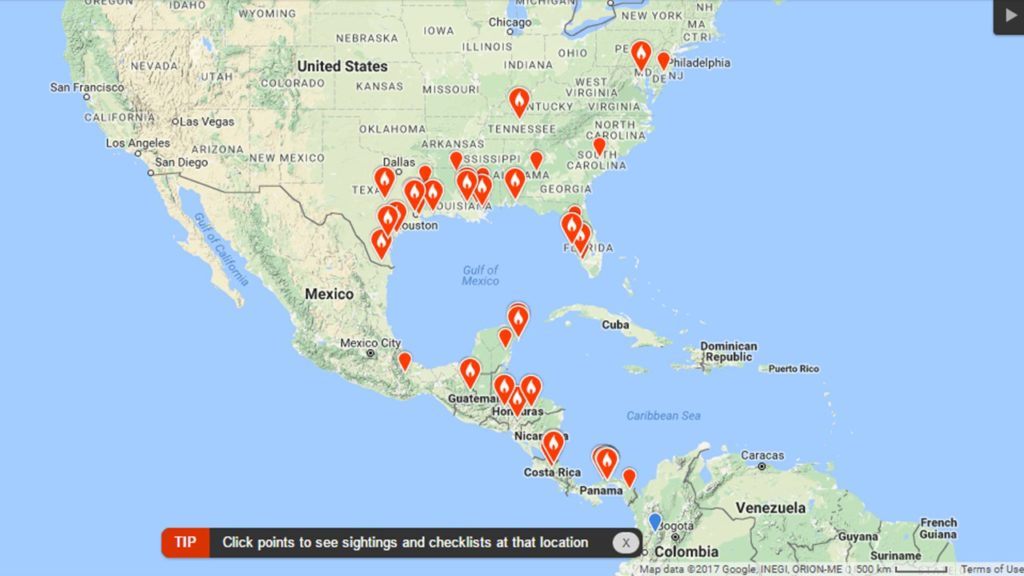 With the swift's impending arrival in Manitoba, mid- to late-May, it is time to SAVE DATES for the spring monitoring programs. The 2017 National Roost Monitoring Program (NRMP) dates are May 24, May 28, June 1, and June 5. The national organizers in Quebec use a recipe to choose dates each year: the first monitoring night occurs on the Wednesday preceding the last Sunday in May. Still with us? As a result of using this recipe, sometimes peak counts can occur before monitoring gets underway. This has happened in Ontario and in Manitoba, our later arriving swifts can be more abundant at roosts well after the NRMP finishes.
You've heard MCSI extol the value of "0" data-points. Those beautiful zeroes, which are so frustrating for bird enthusiasts to score, are so very important to establish true arrival dates. In order to get our Manitoba counts bounded by an observation before the Chimney Swifts arrive and to better inform seasonal peak counts, MCSI is adding two additional monitoring dates – one on either side of the NRMP dates. We would appreciate observation data for May 20 and June 9. Even if early arriving or lingering roosting birds are on-site, we can be confident to have captured seasonal maxima if NRMP counts are higher than our first and last night counts.
Now we have to capture you for monitoring at specific sites. In 2017, the steering committee asks for your help with three high priority activities. We recognize that this may result in a shake-up for some of our long-term supporters. Prioritizing monitoring sites may involve heading to a new site or accepting the helping eyes of additional monitors at your site.
First, we have 30 chimneys which need one additional record of use e.g., entries or exits, to make the site eligible to be registered as critical habitat. To help you locate these new chimneys, we have come up with a rather splendid looking map. If you are limited to NRMP monitoring, please consider selecting one of these sites to focus your efforts on this year. We will keep this map updated – those sites in blue require a new volunteer to check them and those in pink have a dedicated volunteer(s) already. We need to submit observations to Environment Canada asap to have sites listed in the registry. Tim will coordinate monitors, so please contact him if you are interested in a special assignment.

Second, we would like to continue tracking the 17 sites which have qualified previously as roost sites for the NRMP; these chimneys have housed 4 or more Chimney Swifts for overnight rest. Those chimneys can be found on the map below. Some of these 17 chimneys have dedicated monitors while, for other sites, new volunteers need to be assigned. Chimneys which have dedicated volunteers have purple pointers and those which do not have red pointers. We will update the map as people come forward to cover new sites. If you are willing and able to take on one of these sites please email Tim Poole at mbchimneyswift@gmail.com.

The third high priority action item is for season-long coverage of our 3 Big Roosts –Dauphin (213 Main St.), Selkirk (Large Stack), and at Assiniboine School in Winnipeg. MCSI is collating data on the dynamics of roost sites relative to nest sites. With counts for 2017, we will be able to publish an analysis of arrival times, dispersal, and put the non-breeding vs breeding portions of the Manitoba Chimney Swift population into perspective. After the NRMP and special MCSI monitoring night of June 9, we would appreciate receiving any roosting counts for the 3 Big Roosts over the remainder of the season. More is always better, so weekly visits would be ideal while checking in once every 10-14 days would still be helpful. Tim will be coordinating with the team leaders for each of these roosts and help steer supporters to the chimney rims as required.
Your monitoring results do make a difference. Rob Stewart, and co-authors Tim Poole, Christian Artuso, and Barb Stewart, recently submitted a manuscript "Loss and preservation of Chimney Swift habitat in Manitoba, 2007-2016" to Blue Jay (we hope to be published in the summer or fall edition). Data analysed in the paper represent ten years of observations made by our cadre of dedicated citizen scientists. Beyond informing the general public, the publication should be used by the Chimney Swift recovery strategy team. The authors cannot stress too much that the monitoring data, including the zeroes, were essential to this analysis, which we think is the first ever quantification of habitat loss in Canada. So, thank you all for engaging in the process of supporting this species at risk!
Spreading the word about Chimney Swifts is taking on a new look in St Adolphe. Organizers of the revitalization project for Main St. have proposed two exciting visual displays featuring swifts. Stay tuned as the rollout starts this summer…
We always enjoy gatherings to marvel at the aerial wonders of Chimney Swifts. Join us for A Swift Night Out which is being organized for Assiniboine School on Tuesday June 13, with a rain date of Wednesday June 14. There will be more to follow on this.
Now that we have monitoring and outreach issues covered, here is an update on habitat stewardship goals for 2017. Funding continues from Environment and Climate Change Canada's Habitat Stewardship Program. We are currently looking to complete two chimney repairs in 2017. We are applying for more funding and we will keep you posted on any new developments.
To finish off, we are pleased to direct you to our new website at: https://www.mbchimneyswift.com/  Our webmaster, Frank Machovec, has harmonized the old MCSI website ( http://www.mbchimneyswift.ca/ ) and old Blog site     ( https://mbchimneyswift.wordpress.com/ ). Bookmark this one-stop destination for all of your made-in-Manitoba Chimney Swift news!
Everyone at MCSI is looking forward to another exciting year of swift watching. Let's keep in touch as the season spreads its wings…
— Tim Poole, MCSI Coordinator; Frank Machovec, webmaster; Christian Artuso, Ron Bazin, Neil Butchard, Lewis Cocks, Ken De Smet, Nicole Firlotte, Rob Stewart, and Barb Stewart, Steering Committee Members.